The Shift of the Ages is upon us! There's never before in our lifetimes been as much cosmic support for experiencing the ecstasy of Heaven on Earth and from this day forward, it will only be increasing. Yes, the support is in place…
You will be if you take this timely class:
Heaven On Earth:
What You Need to Know to Experience it NOW
An Easy World® Learning Experience with Julia Rogers Hamrick
This practical class with me, spiritual teacher and Easy World® Messenger, Julia Rogers Hamrick, will empower you to make the most of the paradigm shift that's accelerating so rapidly now. I had a profound Heaven on Earth experience in 1982 and it taught me exactly what you need to do to be in Paradise—and I'm not talking about the afterlife, either! I've been "downloading" more and more about it from Divine Mind ever since and I'd love to share this knowledge with you.
In this information and experience-packed 90 minutes, you'll learn:
The 2 crucial aspects of raising your vibration
How to experience ecstasy instantly
What is no longer optional if you desire to be blissful—or even just happy
How to deal with the old-world "stuff" that gets stirred up in the process of becoming the New-Paradigm You.
Super-fast ways to release heavy energy that's keeping your vibration down
How to gracefully extricate yourself from your old-paradigm entanglements
The simplest, fastest, easiest way to access a whole, new world
And more! When is this knowledge transfer taking place?
Wednesday, January 30 by teleconference (90 mins.)
You don't have to attend live, but I believe you'll want to if you can! For registered class members who can't attend live, a recording of the class will be available.
9 pm Eastern / 8 pm Central / 7 pm Mountain / 6 pm Pacific
Now, you're probably wondering what this is going to cost. You may not believe what I'm going to charge you for it. I was going to ask $88, which is a small investment for such a huge payoff. But there's something I desire a lot more than the money, and by giving you this class for a real steal, I'll have a very good chance of getting it. Therefore, I have dramatically—and I mean dramatically--cut the price. Drumroll, please!
Investment: $88.00 Only $3.99* Yes—you're reading that right. This invaluable class that will provide you with priceless, immediately practicable knowledge is yours for a mere
THREE DOLLAR and NINETY-NINE CENT purchase!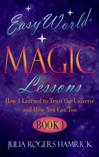 *There's only ONE WAY to get into this class and that's to purchase just one download of my brand new e-book, Easy World Magic Lessons: How I Learned to Trust the Universe and How You Can, Too, Book 1 for $3.99.
This intimate book full of personal stories of my own mundane/fantastic spiritual experiences and the spiritual lessons to be learned from them is filled with Easy World energy. I designed it as a tool for helping you create your own Easy World magic! Truthfully, the book itself is worth more than its price and when you add the class in? Let's just say this is your lucky day!
You do NOT have to have a Kindle or other e-reader to purchase—Amazon offers a free Kindle for PC app, a free Kindle for Mac app, as well as a mobile app for your phone or tablet! AND, if you can't or simply don't want to download it at all, you can read it online via the Kindle Cloud Reader! Nook owners, you are welcome to participate, too! Buy the book here and use your order number to register for the class on the next page!
"Julia created an environment in which I felt at home, at ease and inspired as she delivered, with easy grace, deep and profound truths that I will now carry forward into my life..."
—Beverly B., Ontario, Canada
"Your class has been both enlightening and inspiring...You bring such wonderful energy, insight and passion to your work. I will definitely be back for more!"
—Jill G, Rockville, MD
"I can't say enough how great your workshop was. Totally fascinating! You are truly One with the spirit and such a great teacher."
—John W. Erwin, Asheville, NC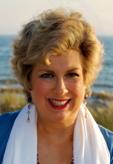 Julia Rogers Hamrick is the visionary author of Choosing Easy World, Recreating Eden and Easy World Magic Lessons. She is a pioneer in teaching that your vibrational frequency determines your experience of life and that Paradise is a vibrational frequency you can access by choice.
If you need help, please contact us.